Globally, the Master of Business Administration (MBA) is one of the most sought-after courses with an array of Career Opportunities. As an MBA student, you will understand the various aspects of business, its real-life applications, and practical experience that will help you develop viable business solutions.
Learn about tuition fees, top business schools, and application requirements for an MBA program in Canada.
Students interested in pursuing a career in business should consider Canada as one of their top choices.
Why MBA in Canada?
Your earning potential and career prospects will improve if you earn an MBA from Canada.

 Compared with other countries, the cost of studying MBA in Canada is significantly lower.

 MBA students can acquire business experience and improve their understanding of the industry through internships offered by many Canadian business schools.

 You will study alongside students from different cultures in Canada since it is a multicultural country. As a result, you will gain a broader perspective on business and management.

 Most Business schools in Canada offer students specializations in their MBA coursework; this gives valuable understanding to your business interests or new job sectors.
If you would like to register for GMAT preparatory class, sign up here.
What is the duration of an MBA in Canada?
In Canada, most MBA programs last two years, but some run about 18 months. Accelerated MBA courses fall under this category. The one-year MBA programs are great options for working professionals who cannot spend two whole years finishing their MBA degree. It is also ideal for students who already have a second degree or a postgraduate degree of any kind.
What is the cost of an MBA in Canada?
Canada's MBA institutions can be rather expensive. According to statistics, the average cost of an MBA in Canada can be $31,856. Tuition fees for international students at reputable MBA institutions are typically higher than those for Canadian students. Nevertheless, there are exceptions, such as Simon Fraser University, Queen's University, and Lansbridge University.
Factors to consider when choosing a business school.
It can be a challenge to choose a university for your studies. As an international student, you should consider these factors when choosing your MBA university in Canada:
Academic Excellence – Ensure the university you choose to study at offers high-quality education and excellent teaching standards.
International student support – If you intend to enrol at an international university, find one with an excellent orientation program, accommodation assistance, and other resources for international students.
Location – Considering that you will be living at the university for several months, it is vital to know the landmass of the university concerning the surrounding area.
MBA cost – MBA tuition varies depending on the university.
The top 7 business schools in Canada for your MBA
According to the Edu-universal Ranking in Canada 2020, these10 universities and their business schools offer the best MBA programs in Canada:
McGill University – Desautels Faculty of Management

HEC Montréal

University of Toronto Joseph L. Rotman School of Management

University Of British Columbia Sauder School Of Business

Western University – Ivey Business School

York University Schulich School Of Business

Smith School of Business – Queen's University
Admission requirements for MBA in Canada
Transcript of Bachelor's degree from a recognized university or education institution.

Resume/CV

Graduate Management Admissions Test (GMAT) score.

(Register here)

Previous relevant work experience.

English language proficiency test, like IELTS or TOEFL.

(Register here)
Statement of Purpose. Contact us for a well-written SoP. 

2 Recommendation Letters.

Admission interview.
Although getting into MBA programs in Canada can be challenging, you will have access to several career-enhancing resources once you get in.
We had the opportunity of Interacting with a graduate of one of the prestigious MBA schools in Canada. (Queens University) You can catch a replay here. He shared his MBA Experience in Canada.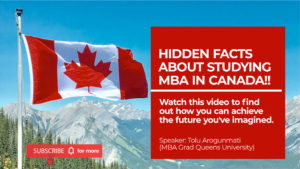 If we missed anything about MBA in Canada, please let us know about it in the comment below.
Do you have questions?
Our experts can answer all your questions about studying in Canada in detail, contact us via this link or send an email to Contact@ileiwe.com